If you are looking to get your Pakistan certificate attestation in Dubai UAE, you are in the right place; we provide Pakistan document attestation in the UAE. Like Pakistan Birth certificate attestation, Pakistan marriage certificate attestation.
We are the best option for you to get your Pakistan Certificate Attestation in Dubai, UAE,
Any Pakistani certificate like Degree Certificate, Diploma Certificate, transcript Certificate, Matric Certificate, Intermediate Certificate, Birth Certificate, Marriage Certificate, Divorce Certificate, Experience Certificate, Power of attorney… We help you and provide Every Pakistan documents attestation services.
Documents issued from Pakistan to make it a valid document for use in the UAE need to be attested by respective departments in Pakistan and UAE.
We help you in every step of your process.
We collect documents from your preferred location.
Get your Pakistan documents attestation from the required department, update your progress of attestation from time to time, and then get it locally attested by the Ministry of Foreign affairs UAE.
And then deliver documents back to you safely.
We provide free pick-up and delivery all over UAE.
Procedure for Pakistan Marriage Certificate Attestation
Suppose you wanted your Pakistan Marriage Certificate attestation for use in UAE for any Sponsor or Spouse visa. We will help you in this process and get your Marriage Certificate attested by the required departments.
The procedure is not easy as everyone thinks the certificate will submit to various departments and stamped to prove its authenticity.
1. Ministry of Foreign Affairs Govt of Pakistan.
2. UAE Embassy in Pakistan.
3. Ministry of Foreign Affairs UAE (MOFA).
Don't worry about the above Procedure for your Marriage Certificate. You can give your certificate to Express age Attestation for Easy and Fast attestation services.
Requirement for Marriage Certificate Attestation
NADRA issued Marriage Certificate.

CNIC Copy of Both Husband and Wife.

Passport Copy of Both Husband and Wife.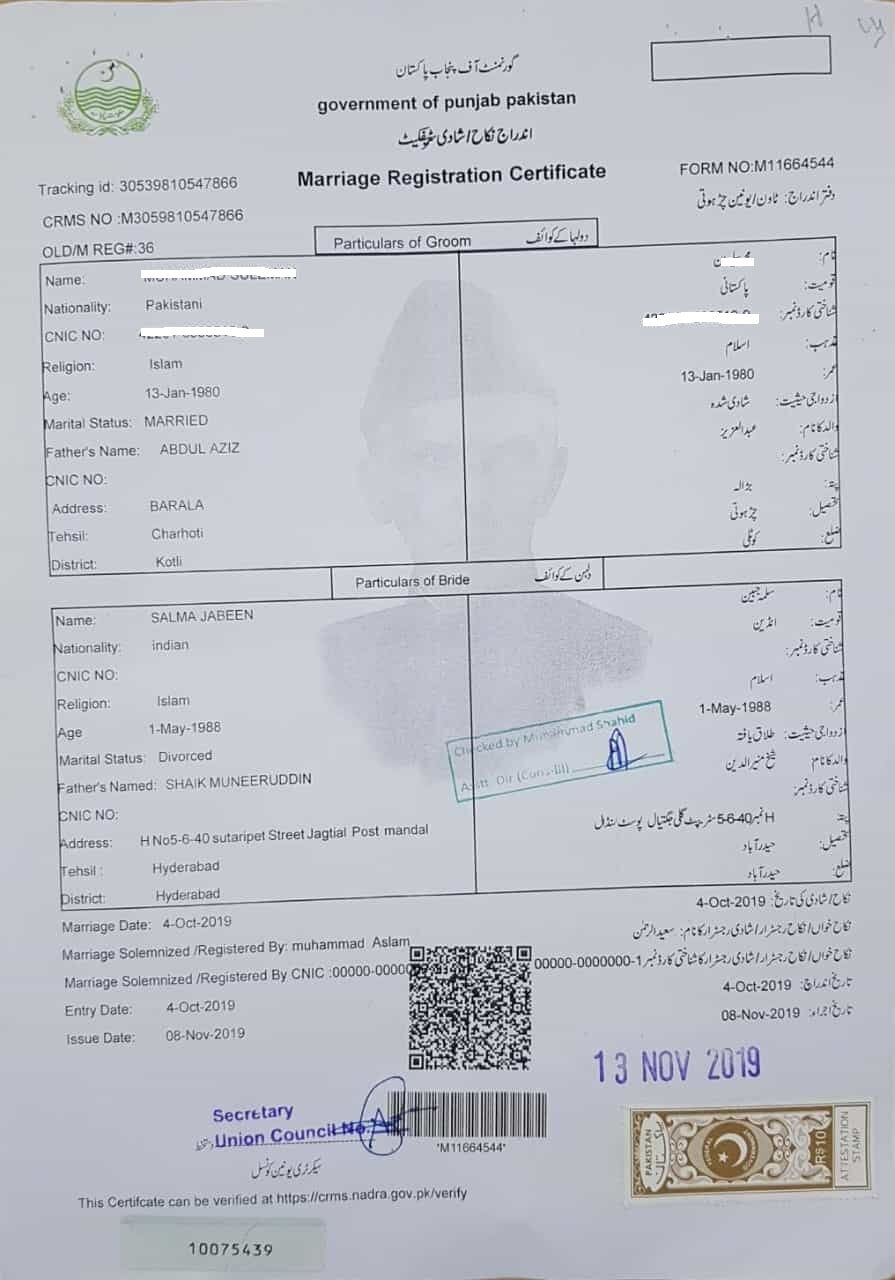 Procedure for Pakistan Birth Certificate Attestation

The Procedure for attestation of a Birth Certificate is the same as for a Marriage certificate.

Requirement for Birth Certificate Attestation

Original Birth Certificate.

Both Wife and Husband CNIC Copy.

Passport Copy of both Husband and Wife.

Procedure for Pakistani Educational Certificate attestation

Under Graduation, Graduation and Post-Graduation certificate attestation

All types of Degree Certificate (BA, BSC, BCOM, BE), Master Certificate(MA, MCOM, MSC, ME), and Ph.D. This process will attest to certificates.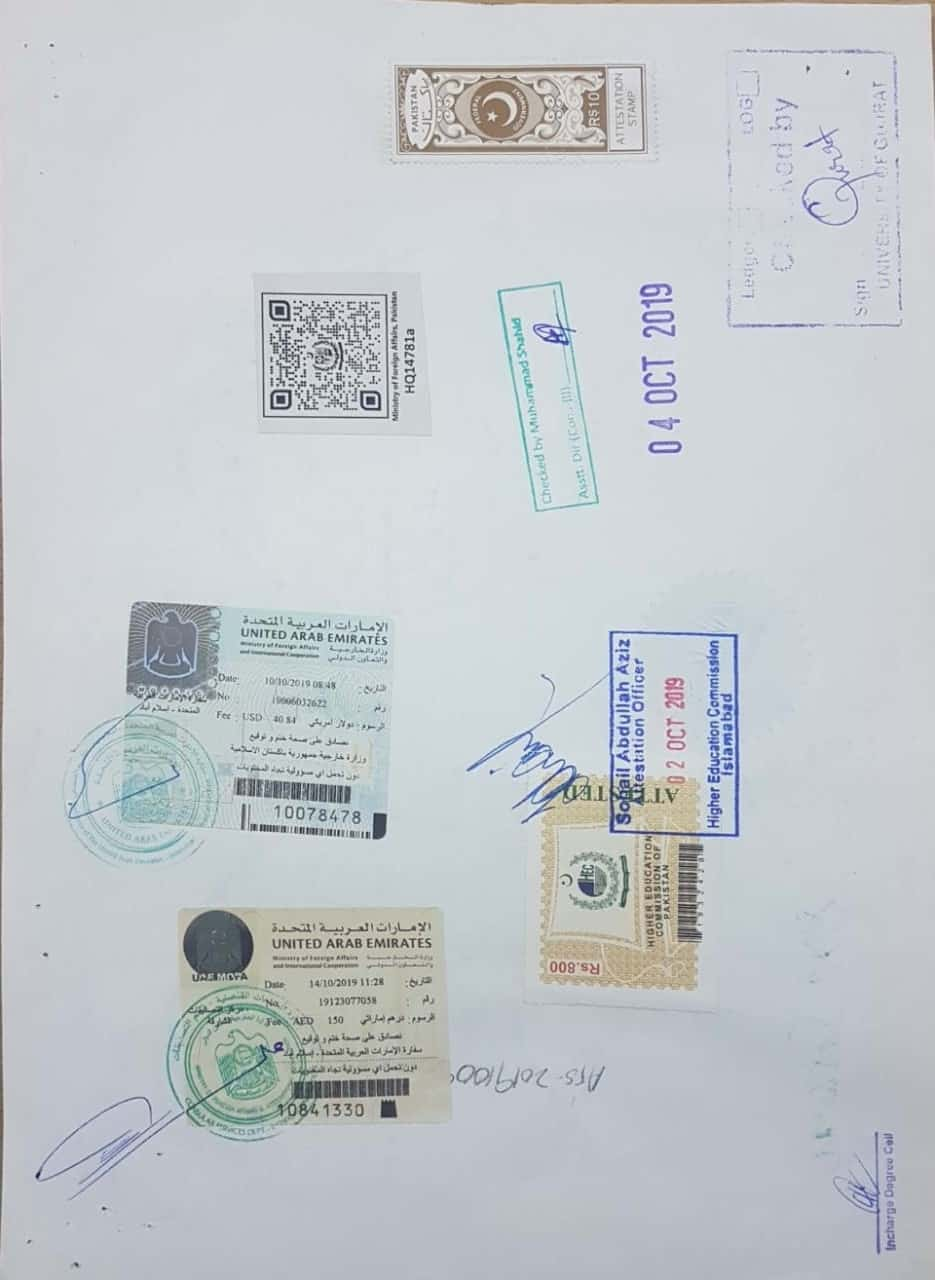 Documents Required for Degree Certificate

Original Degree Certificate

Original Degree Mark sheets

Original Intermediate Certificate and Mark sheets

Original Matric Certificate and Mark sheets

Copy of Passport

Passport size Photo Graph

Copy of National Identity Card Pakistan

Attestation process of other Education Certificates like Matric, Intermediate and all kinds of Diploma

Ministry of Foreign Affairs Pakistan

UAE Embassy in Pakistan

Ministry of Foreign Affairs in UAE

Required Documents for Matric Certificate Attestation

Original Matric Certificate

Original Mark sheet of Matric

Copy of Passport

Passport size Photo Graph

Copy of National Identity Card Pakistan

Document Required for Intermediate

Original Intermediate Certificate and Mark sheet

Original Matric Certificate and Mark sheet

Copy of Passport

Passport size Photo Graph

Copy of National Identity Card Pakistan

Diploma Certificate Attestation

In the case of a Diploma, the UAE Embassy will need both Matric and Diploma to be attested.

Documents Required for Diploma

Original Diploma Certificate and Mark sheet

Original Matric Certificate and Mark sheet

Copy of Passport

Passport size Photo Graph

Copy of National Identity Card Pakistan